Yoshimura Laboratory
Department of Systems Innovation, School of Engineering, The University of Tokyo
MEXT, Program for Promoting Researches on the Supercomputer Fugaku
Digital Twins of Real World's Clean Energy Systems
with Integrated Utilization of Super-simulation and AI
PROJECT
We are going to build Digital twins of advanced coal-fired power plants and offshore windfarm, with integrated utilization of super-simulation (multi-physics / multi-scale integrated simulation) and AI.
We work closely with companies that are engaged in R&D of real machines and plants to proceed with the demonstration of the digital twins at the real-scale level.
Through collaboration with Consortium for Next Generation Combustion System CAE (CNGC), the wind industry consortium that uses next-generation CAE (tentative name), Japan Wind Power Association (JWPA), Nippon Kaiji Kyokai (ClassNK), and IEA Wind, we will establish a system for disseminating this development technology in Japan and overseas.
We will contribute to strengthening the competitiveness of a wide range of industries dealing with combustion equipment, fluid machinery, heat transfer equipment, etc. by holding seminars on application and disseminating activities of each application to general industries.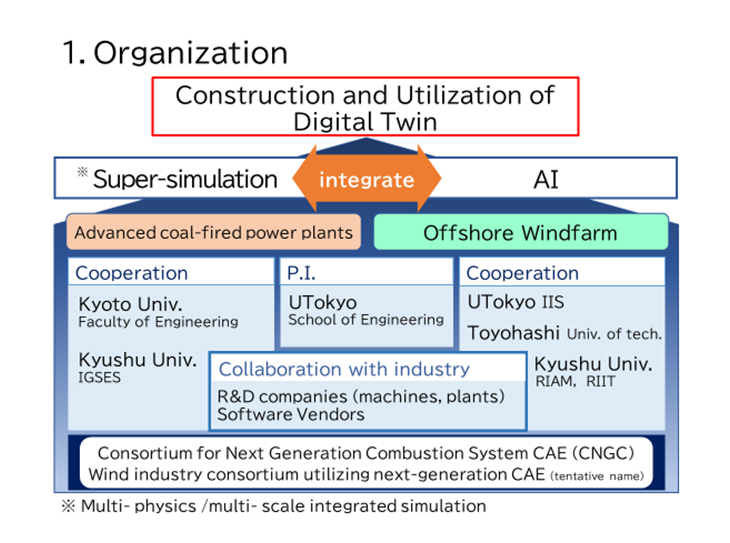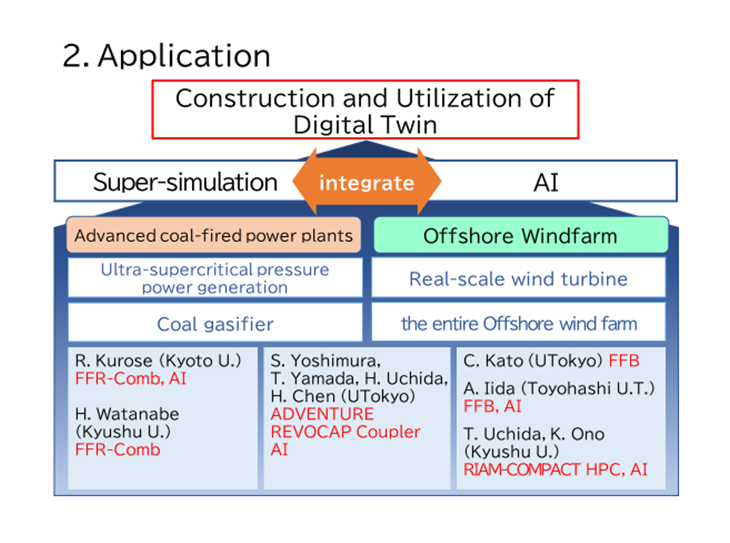 Project Leader
| | |
| --- | --- |
| YOSHIMURA Shinobu | Prof., School of Engineering, The University of Tokyo Project Member |
Project Member
| | |
| --- | --- |
| YAMADA Tomonori | Assoc. Prof., School of Engineering, The University of Tokyo |
| UCHIDA Hideaki | Assistant Prof., School of Engineering, The University of Tokyo |
| SHUNHUA Chen | Researcher, School of Engineering, The University of Tokyo |
| KATO Chisachi | Prof., Institute of Industrial Science, The University of Tokyo |
| SUZUKI Yasumasa | Research fellow, Institute of Industrial Science, The University of Tokyo |
| YUSA Yasunori | Assistant Prof., School of Informatics and Engineering, The University of Electro-Communications |
| OGINO Masao | Assoc. Prof., Daido University |
| SHIOYA Ryuji | Prof., Toyo University |
| KAWAI Hiroshi | Prof., Toyo University |
| MIYAMURA Tomoshi | Assoc. Prof., Nihon University |
| WADA Yoshitaka | Prof., Faculty of Science and Engineering, Kindai University |
| TAKEI Amane | Assoc. Prof., Faculty of Engineering, University of Miyazaki |
| KANEKO Shigeki | Doctoral Course, School of Engineering, The University of Tokyo |
| KUROSE Ryoichi | Prof., Faculty of Engineering, Kyoto University |
| PILLAI Abhishek Lakshman | Assistant Prof., Faculty of Engineering, Kyoto University |
| WATANABE Hiroaki | Prof., interdisciplinary Graduate School of Engineering Sciences, Kyushu University |
| PANLONG Yu | Post-doctoral Fellow, International Institute for Carbon-Neutral Energy Research, Kyushu University |
| ONO Kenji | Prof., Research Institute for Information Technology, Kyushu University |
| UCHIDA Takanori | Assoc. Prof., Research Institute for Applied Mechanics, Kyushu University |
| IIDA Akiyoshi | Prof., Department of Mechanical Engineering, University of Toyohashi |
| YOSHINAGA Tsukasa | Assistant Prof., Department of Mechanical Engineering, University of Toyohashi |
| QUIDUM Maulana Binu Soestanto | Doctoral Course, Department of Mechanical Engineering, University of Toyohashi |
| IMAMURA Hiroshi | Japan Wind Energy Consulting Inc. |
| UEDA Yuko | Japan Wind Energy Consulting Inc. |